QUOTA Stone is a multifunctional CNC working center with 3 digital interpolated axes (4 axes opt).It features a powerful kW 10,2 (S6) air-cooled electrospindle specifically designed for outstanding lifetime.All axes motion is powered by brushless motors with accuracy ensured by prismatic steel guideways with 4 revolving balls pads protected by bellows. QUOTA Stone, thanks to its advanced ergonomics, features top class working area/machine footprint ratio allowing machining of mm. 3250 x 1550 sheets (with mm.100 tool diameter) in an extremely reduced space. The machine is driven by a CNC OSAI control unit with axes control digital technology and run by a worldwide renowned user-friendly 2D and 3D (Option) software interface.
Technical Sheets
Features
Processings
Optional
Video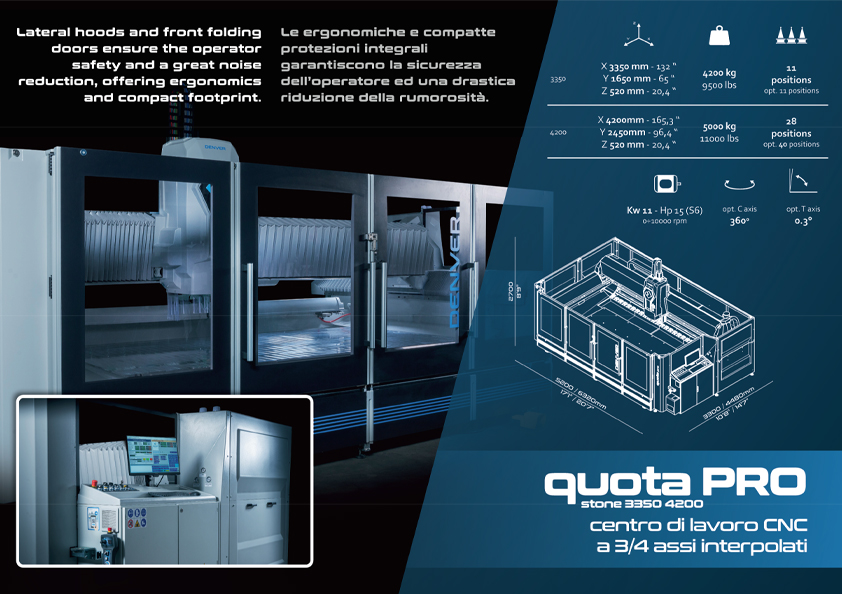 Denver Quota stone top bagno
---

Denver Quota glass & stone scan 2D
---

Book Your Demo
See our machines
Denver gives you the chance
to enter from your home in the company solution center
and check online the wide range of processing possible on our machines.
You can also speak directly to our technicians
and follow step by step software programming. You just have to fill in the form choosing the model you are interested in and you will be contacted to plan together date, time, processing and subject to attend online.